Kitchens
Superb contemporary style fitted kitchen by BeSpace with oak cabinet interior and soft close drawer units. The kitchen is designed to receive fully integrated appliances.
Utility
The utility room comes with additional workspace, countertop and storage to the same finish and standard as the kitchen and is fully plumbed to receive a washing machine and tumble dryer.
Bathrooms & Ensuites
Stylish bathrooms and ensuites with slimline shower trays design around a contemporary style.
Wet areas are tiled throughout to the highest standard to all showers.
All bathrooms are fitted with heated towel rails.
Internal Finishes
Walls and ceilings painted a neutral colour
Woodwork painted throughout
Solid mahogany handrail to stairs with painted balustrade
High quality painted panelled doors
Pressurised Water
Every house has an internal pressurized water system to deliver exceptional water pressure to all showers and taps. The pump is submersed within the water tank located within the roof ensuring noise is kept to a minimum.
Heating
The air to water, heat pump central heating system delivers high efficiency and precise control to each heating zone at all levels. In addition to the heating zones there is flexible time and temperature control with individual radiators fitted with adjustable thermostatic control valves for additional room control.
Gardens
Each home at The Willows comes with a levelled and seeded rear garden.
Feature wall light to the rear garden.
Generous paved driveway with parking for two cars complete with fully landscaped front garden.
Electrical
Generous allocation of power, including USB and lighting points throughout each unit.
CAT 5E cabling for data / TV.
Car Charging Station
House has provision for car charging station.
Media & Communications
Each house is wired and ready for connection of TV, Telephone and Broadband.
Security
Each home is wired for intruder alarm.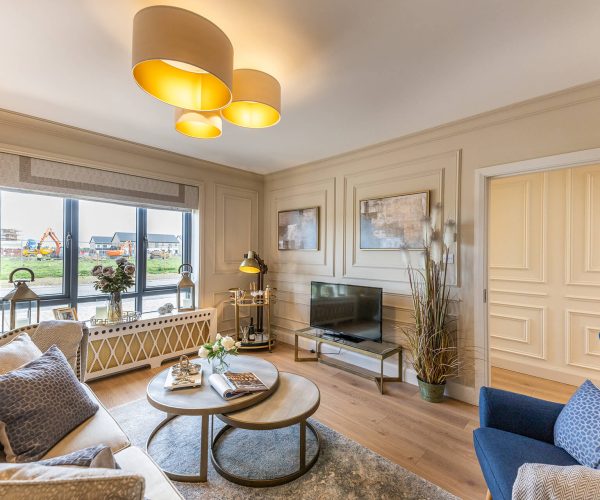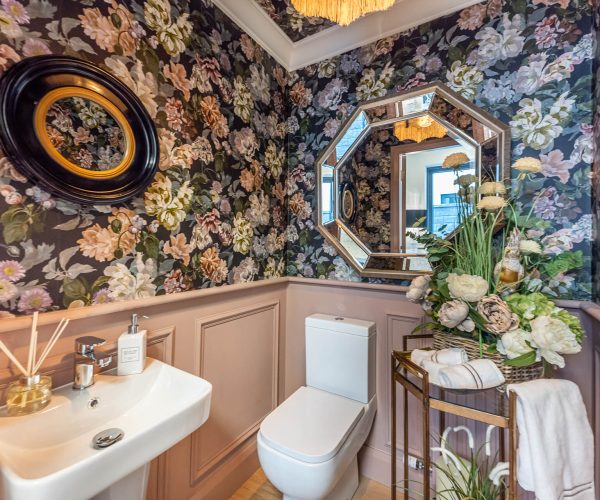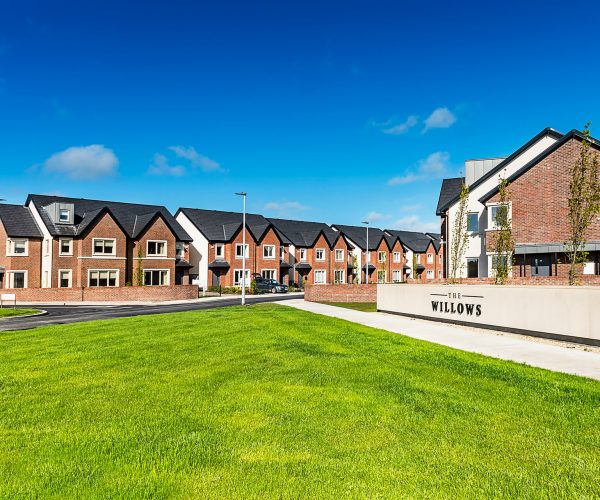 External Finishes
Low maintenance natural brick and selected selfcoloured render.
Market leading energy efficient doubled glazed uPVC windows throughout with engineered front door and glazed sidelight with hardwood frame complete with multi point locking system for added security.
Feature wall light at front entrance
Guarantee
Each home is covered by the 10 year HomeBond Guarantee Scheme.

nZEB Rated
The latest phase of houses at The Willows have been designed and built to the latest edition of the Part L Building Regulations 2019 and are achieving nZEB status as a 'BER A2' rated house. These houses are to the highest level of energy efficiency ever called up by the Department of the Environment and will use only 30% of the energy that the equivalent house in 2005 required. This has been achieved using a combination of high-performance building fabric materials and high efficiency heating equipment. NZEB (nearly zero energy buildings) this benchmark is unlikely to be surpassed for some time.
Superior Low Energy Design
Houses at The Willows feature significant levels of energy efficiency that are far superior to the average home. A variety of features combine to ensure low energy usage and higher levels of comfort for the homeowner. All homes at The Willows have a minimum BER rating of A3.
Insulation – The use of high performance insulation in the construction of each house is used to reduce both heat and energy loss.
Windows – PassiV uPVC future-proof double-glazed windows with exceptional U values and airtightness.
Heat Recovery Ventilation (HRV) – A very efficient Heat Recovery System designed to provide tempered fresh air to the house all year round. The ventilation is tailored to the occupants needs, reducing energy consumption and providing superior internal air, quality and comfort.
Air Tightness used in conjunction with the HRV system, each house has a higher level of air tightness reducing heat and energy loss through the fabric of the building.